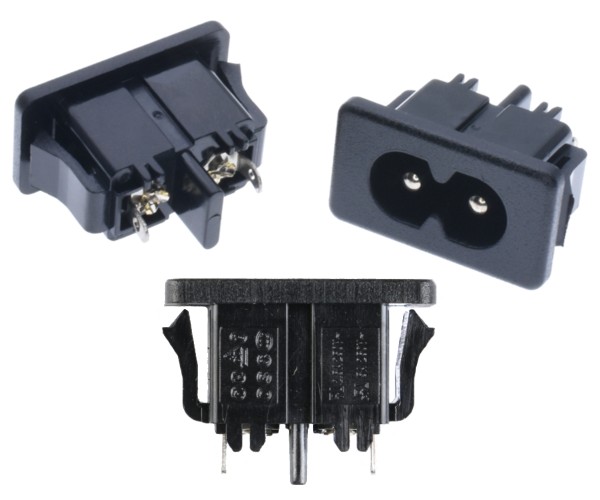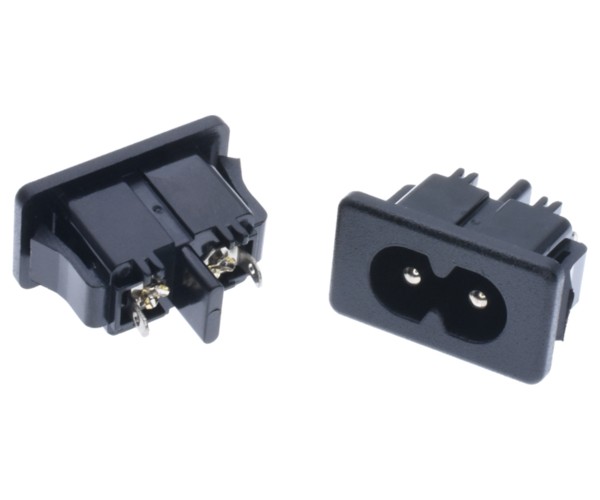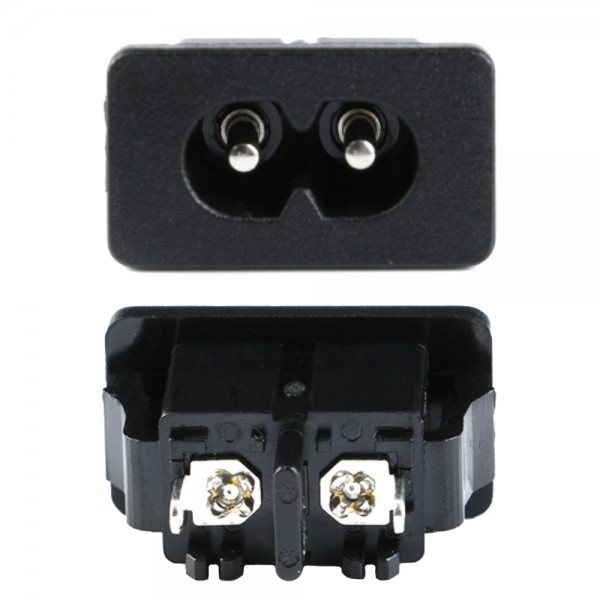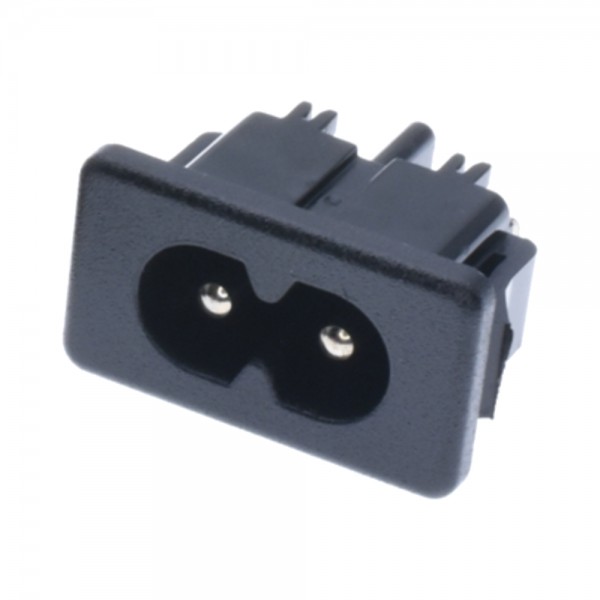 Mains plug connection connector adapter IEC320 C8 plug snap-in 250V / 5A
---
- Neuware
- Quality manufacturing
- Product Type: Power Plug Connection Connector
- Dimensions for the mounting hole: approx. 23.5x12.2mm
- Frame dimensions approx. 28x16mm
- Material: Plastic 
- Color. Black
- Max. load (voltage/current): 250V / 5A
- Installation depth: approx. 19mm
- Connection by 2x flat plugs (3.2 x 0.6 mm) or solderable
- Number of pins: 2
- Montageart: Snap-In
Scope of delivery:
- 1x, 2x or 3x adapter mains plug connection plug connector (please refer to the selection)
- Brand new - High quality manufacturing - Product type: Mains plug connector - Dimensions for the installation opening: approx. 23.5x12.2mm - Frame dimensions approx. 28x16mm - Material: plastic - Colour. Black - Max. load (voltage/current): 250V / 5A - Installation depth: approx. 19mm - Connection via 2x flat plugs (3.2 x 0.6 mm) or solderable - Number of pins: 2 - Mounting type: snap-in Scope of delivery: - 1x, 2x or 3x adapter mains plug connection plug connector (please refer to the selection)
1 piece
2 pieces
3 pieces
Selected items that customers often buy (click on the image to go directly to the offer)
about us
More than just switches, fuses and electrical devices - your satisfaction is our goal
At mixmax-24 you, the customer, are king. After all, your satisfaction is our top priority. Are you looking for uncompromisingly high-quality goods in the industrial and automotive sectors? We would like to invite you to discover our carefully selected range. This includes a large number of switches, buttons and connection cables from well-known manufacturers. Fuses and various electrical devices can also be purchased conveniently from our shop. Maybe you also need quality products from the model building sector? We are also your competent contact for these. Don't leave anything to chance when it comes to the quality of your electrical appliances and matching accessories - we at mixmax-24 are there for you. 
A partner that automobiles and industry trust 
Goods from CE-certified production companies form the basis of our range. This consistently high quality enables you to use our items for an above-average period of time. In addition, you always get the best possible service at mixmax-24. We will advise you at any time if you have any questions. Would you like to find out more about a special product or the ordering process? Don't hesitate to get in touch. Your satisfaction is our goal - we are always happy to assist you before, during and after your purchase. 
mixmax-24 at your side: Benefit from strong advantages 
With us you can rely on a full guarantee and the immediate exchange of products. Since we are a certified dealer from Germany, you get 100 percent purchase security. In addition, our prices include statutory VAT. We will email you a corresponding invoice in your name within 12 hours of receipt of payment. Please also note our right of withdrawal. This includes one month for each of our CE-tested new goods.